Product liability
Are you refurbishing bicycle batteries? Then you change something in the battery which makes you responsible for the quality and safety of the revision. When something goes wrong with a refurbished battery, and major damage occurs, an insurance company can claim that you are responsible for the quality and safety of the refurbished battery. You have become product liable.
Then it is important that you can prove that you have done a good job.
Testing the safety functions
In order to be able to demonstrate 'good work', it is necessary that you have taken care of sound connections and insulations, and provided a test of the safety functions of the BMS.
Therefore, it is not enough just to carry out a capacity test. It must also be tested:
The temperature sensors are the right ones, are correctly connected and give correct values.
The wiring to all cells is correctly connected.
The current measurement works correctly.
Giving warranty and being product responsible, while a BMS cannot be tested is a gamble. Any consequential damage is incalculable and is not good for the customer and certainly not good for your company and reputation.
With few BMSs it is possible to perform such a test. And certainly not with the cheap BMSs.
Which BMS is suitable
The Smart BMS has communication, and can perform a functional test via the communication after the pack is ready and closed. In this way, you can be sure that the wiring is correct and will work correctly.
Thanks to the test option and the readout of the user activity (thanks to the communication), you can give a good warranty. If a customer comes back with a question, you can read the history and see what happened.
This allows you to judge whether or not it is a warranty. This way you can see what you need to do to help the customer.
Lifetime doubling
Perhaps you would like customers to come back soon for a new revision. But customers like to use a Lifetime doubling. The Smart BMS has a charging function that charges cells up to 80%, while the battery is still accurately balanced. With an 80% charge, a battery lives 2x longer, and even longer when the battery has been put into (automatic) 'hibernation'.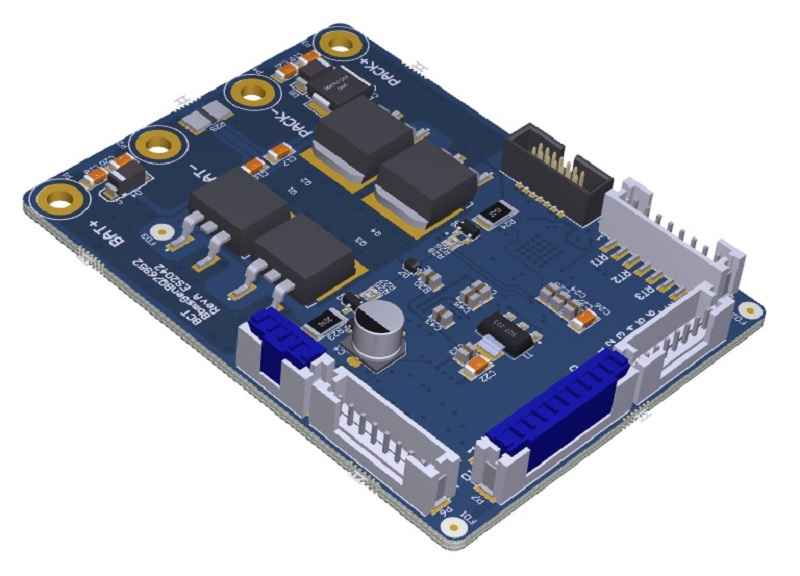 Read more about this in the white paper:
"Product liability for bicycle battery revision".
---
We offer standard Lithium BMS solutions through Axtrel.com .
The Smart BMS features in brief
BMS for pedelec and bicycle batteries ( engines up to 500W)
Available in:
24 - 36V (7 - 10S) version
24 - 48V (7 - 16S) version
Size: 60 x 80mm.
CAN communications.
Readable Event Log for assessment of warranty claims.
Acurate cell balancing
Update provision for Firmware.
Functional test after installation.
100% Configurable.
Lifetime doubling using 80% charging.
Lifespan extension by automatic hibernation.
Compatible with UN38.3, EN15194 and IEC 62133-2:2017
The benefits of a Smart BMS for battery revision
Support on the BMS from the Netherlands.
Functional test after installation.
Easy to install.
Configurable for the specific battery.
High reliability.
Keep control over warranty claims.
Service parts remain available