Application specific PLC
The use of a PLC is a favourable solution for many installations. Sometimes special sensors are needed, for which separate electronics have to be made. By building these electronics into the PLC an enormous saving is achieved. Both on the electronics, calibration and assembly costs.
Converting the PLC software, as well as its maintenance, is easy, using the standard language for PLCs: IEC 61131-3.
Learning a new language (such as C/C++ or C#) is then not necessary.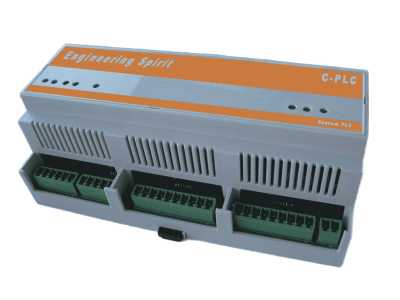 30% Cost reduction by:
Less wiring
Short assembly time.
Expandable
Integration of sensor electronics.
While preserving:
Being able to customize the program yourself (as a customer).
Cloud connection for IoT (Internet Of Things).
Modbus for connecting other devices
High performance, by 32-bit ARM controller.
Reliable SMD assembly technique.
Program options of your choice:
Update remotely IEC 61131-3

Ladder diagram (LD)
Function block diagram (FBD)
Structured text (ST)
Instruction list (IL)

C/C++
options for other languages