A Universal Module
To reduce development time we provide a module that already contains all intelligence and safety functions.
It will be placed on a BMS base board that provides the power elektronics and connectors. You may customize this so it fits best your application.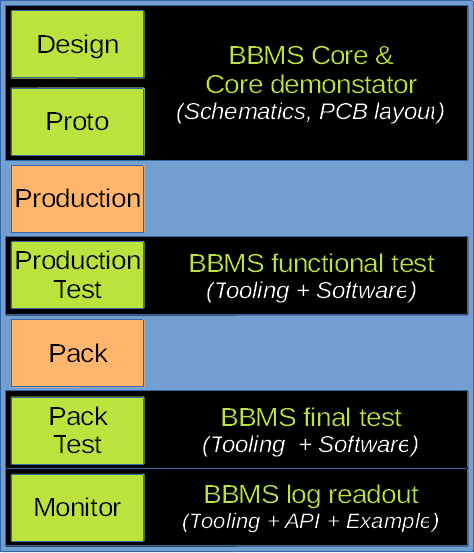 Full support for all steps
After production and pack assembly the BBMS tester may be used for testing. Functional testing after production and final testing to make sure the pack assembled correctly.
You want/need to make your own solution? Consider all parts you need to design, produce and to comply with standards.
The BBMS solution solves al of these steps at minimum cost.
Turn key BMS solution
Safe time and cost in the design and proto stage using the BBMS core and demonstrator. Either, use the module or create your own board using the design files supplied.
We provide you with:
Schematics for your power circuit to save on your design effort
Parameter configuration software to help you customize your solution
Functional test software for the assembled board to guarantee good pcb production **
Functional test software for the closed pack to guarantee good final products
Software to read-out values and event history to help reduce warranty claims
** A test jig may be required.